Animals that have gained entry to and taken up residence in attics can completely destroy the entire attic space. They can cause biohazardous situations by soiling the insulation with urine and feces, which not only leaves horrendous odor, but can also spread disease and parasites. When insulation becomes soiled and matted down it causes significant energy loss. They can also destroy heating ducts, bathroom fan ducts, attic fans, gable vents, roof vents, soffit vents, etc.
We offer services to completely remove all contaminated insulation, disinfect and deodorize the attic space, install new insulation, and repair any damage caused by the animals.
In most cases, homeowners insurance covers these services. It is in the best interest of the homeowner to hire our services for these repairs. We have specialized equipment to power-vac out all of the insulation, whereas many of our competitors will just take shovels and garbage bags, removing minimal insulation and possibly leaving soiled and damaged insulation buried under new insulation, which can leave an odor that attracts new animals. With our service, we remove every last bit of insulation, which is pumped into a dumpster and hauled away. We then completely sanitize and deodorize the attic, and finally we professionally install new blown-in insulation, often in a higher R-Value than was before. We are also able to replace any fans, vents, etc, that have been destroyed by the animals, and offer repairs for the areas where the animals gained entry to the attic.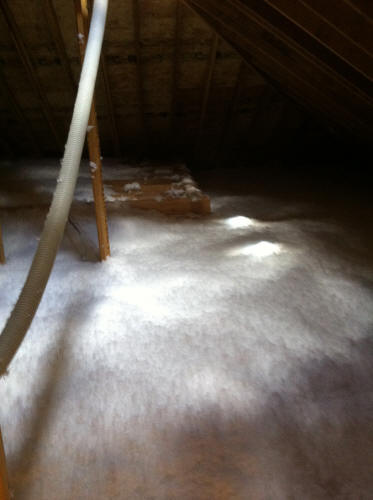 One of many beautifully and expertly re-insulated attics we've completed.