Suburban Wildlife Control Services Kane County, DuPage County, and Portions of Cook County.

We service the following towns, cities, and communities: (listed alphabetically)

Addison*, Aurora*, Barrington Hills, Bartlett, Batavia, Bloomingdale, Campton Township, Carol Stream, Carpentersville, Dundee Township, Eola*, East Dundee, Elburn, Elgin, Geneva, Gilberts, Glendale Heights, Glen Ellyn, Hanover Park, Hoffman Estates, LaFox, Lily Lake, Medinah, Naperville*, North Aurora, Ontarioville, Pingree Grove, Plato Center, Roselle, Saint Charles (St. Charles), Schaumburg, Sleepy Hollow, South Elgin, Streamwood, Sugar Grove*, Udina, Valley View, Virgil, Warrenville, Wasco, Wayne, West Chicago, West Dundee, Wheaton, Winfield.

*we service portions of these areas
Please check our service area on the map below: (areas highlighted in purple/pink)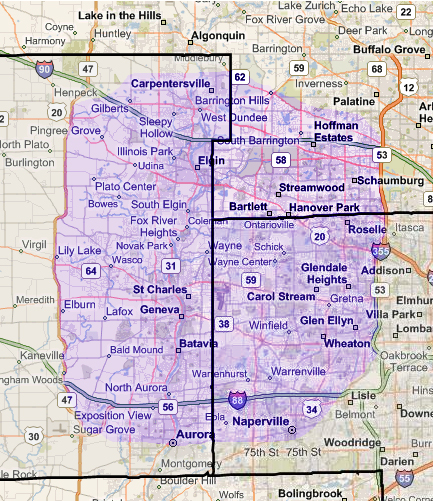 If you are outside of our Service Area:
In some cases, though not always, we may travel outside our normal service territory -
depending on the nature and severity of the situation. Please call to inquire.
Zip Codes we service: In numerical order - (note, we may only service portions of some of the zip code areas listed)
60010, 60101, 60102, 60103, 60107, 60108, 60110, 60116, 60117, 60118, 60119, 60120, 60122, 60123, 60124, 60128, 60132,
60133, 60134, 60136, 60137, 60138, 60139, 60140, 60147, 60151, 60157, 60159, 60168, 60169, 60170, 60172, 60173, 60174,
60175, 60177, 60179, 60183, 60184, 60185, 60186, 60187, 60188, 60189, 60190, 60192, 60193, 60194, 60195, 60196, 60197,
60199, 60502, 60503, 60504, 60505, 60506, 60507, 60510, 60539, 60540, 60542, 60554, 60555, 60563, 60564, 60565, 60566,
60567, 60568, 60598, 60599
If you are North of our Service Area:
We recommend Always Natures Way Wildlife Removal, see a map of their service area at www.alwaysnaturesway.com