Amphibians and Reptiles by Suburban Wildlife Control
Illinois is home to a large variety of amphibians and reptiles including: 20 species of salamanders, 22 species of frogs and toads, 17 species of turtles, 7 species of lizards, and 38 species of snakes (4 of them venomous).
Although most of these creatures are relatively harmless and tend to be elusive and keep to themselves, occasionally a situation will arise when help with these creatures is needed. We have the experience and expertise required to provide that help. If you have a snapping turtle in your window well or a large snake in your wood pile, or any other problem concerning amphibians or reptiles, please contact us and let us know the nature of the issue, and we can let you know what our recommendations are. We also provide emergency services when necessary.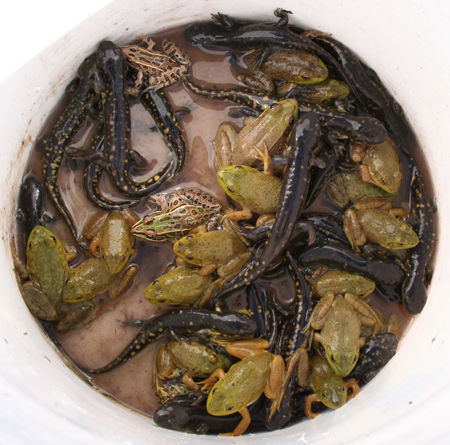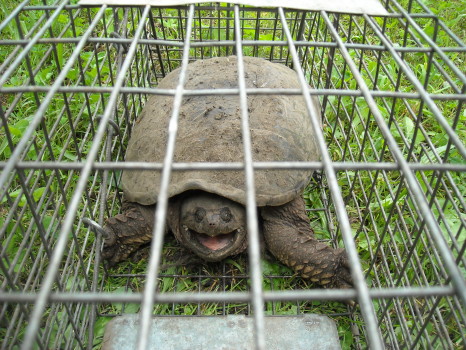 A bucketful of amphibians that Brad rescued from a window well, after torrential downpours flooded out the marsh behind a customer's home; and a snapping turtle Brad removed from another job.
<RIGHT:
Brad, years ago, with a HUGE python he caught
after it escaped from a third story apartment building
and the police called him for help.

Read the Chicago Tribune Story here:

"SNAKE CHARMER MUST NOW WORK MAGIC ON LANDLORD"

LEFT>: Brad with a pair of Fox Snakes, which closely resemble the venomous Massasauga, that Brad captured after responding to a call from local authorities for "Rattle Snakes". These snakes actually do shake their tails in a rattle-like fashion, but lack the elaborate rattles of their venomous cousins.
See more photos of Amphibians and Reptiles in our Photo Gallery>