Testimonials from Our Customers-
We appreciate your positive feedback! It's always very fulfilling to know you've been able to help someone and to have a job well done. This is the excellence we give to every job. Here are some examples of people who were so pleased, they took the time to let us know. Thank you always to our customers, we truly appreciate your business.
If you would like to leave a testimonial of your own, we would love to hear it! You can send us your thoughts to: goodjob@suburbanwildlifecontrolil.com
---
Thanks to Brad and Katy- when the raccoons were eating my roof, they were right there with traps and advice. After cutting the branches back so the 'coons had no bridge, problem solved! Thanks again and I'll recommend you to anyone with animal issues! -Eric Anderson, Batavia, IL
---
Thanks so much you all for getting the raccoon family out of our attic and reuniting them. You are truly great at what you do and and we appreciate you professional attitude. When the critters come knocking we will be calling you again. -Renee Profitt Carter
---
Hi Brad and Katy,
Just want to thank you again for your quick service in solving our raccoon dilemma. I REALLY appreciate your common sense approach to wildlife issues. Simple things, like when you called to say the weather was too bad to paint, really impressed me, because so many times I hang around waiting for people who never show.
So many businesses today miss the details of customer service, but Suburban Wildlife pays attention and follows through. I'll be happy to recommend your services to my friends. Thanks again.
Sincerely,
Lisa Swan and Family
---
Brad,

You get the Hero of the Day award. Thank you for coming out to remove the sick skunk from our property first thing this morning. We appreciate your very quick response, allowing us to keep our clients safe. If only the smell would leave the building as quickly as you work! Your card is handy and we will be in touch if any other little friends decide to try and call our office home.
Thanks again, Colleen C. - Country Financial, West Dundee, IL
---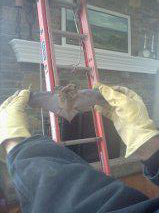 THANK YOU Suburban Wildlife for calling us back and coming to our home in under 30 mins! You even changed a light bulb we couldn't reach because it was so high : ) You're the best!-Meg B.L. (had a bat in their house in St. Charles, IL) (photo courtesy of the homeowners)
---
Brad,

Thank you for humanely capturing and moving the raccoons and skunks living under my deck and for the excellent job you did in digging out around the deck and installing the wire fencing to keep them out in the future. They have already tried to dig under there but to no avail! :) I appreciate the neat job you did digging up all the hastas and putting them back and taking thoughtful care of the lilac bush in your way. A few years ago you also did a great job getting rid of bees around my airconditioner unit that had built a hive in the raised ceiling of my basement along the damp pipe from the unit. You have responded quickly every time I've called. You are amazing! Thank you!
Robin Plotkin, happy, satisfied customer in St. Charles, IL
---
Dear Brad,

Thank you for removing over 7 moles from my St. Charles yard. I sincerely appreciate the many, many visits you have made to my property to place, move and remove traps. And the fact that you stand by your "removal guarantee" has been a blessing to us as those moles seem to never end. Thank you!
Carrie S. H. - St. Charles, IL
---
Dear Brad,
Thank you for your service. You have been very prompt and responsive. It has been good to work with you - I will be letting the city know the positive feedback. Thank you (and I hope you do not hear from us any time soon

)
Regards, Pam W. - Wheaton, IL
---
Hi Brad. Just a quick note to say thanks for taking care of my squirrel problem. All is quiet here - at least until next time! -Mary H. of Carol Stream
---
Dear Brad,
I just wanted to let you know that along with all the complaints I get everyday, I also get an occassional compliment about someone.
Mrs. Shirley L. is extremely pleased with the work you've done for her and she wanted to make sure that I keep on recommending you for wildlife problems. Her comment has been noted in my files and you will remain high on the private company list.
Keep up the excellent work.
Sincerely, Kirsten W. -Administrative Services, Hoffman Estates Police Department

---
On a Saturday afternoon my wife and I discovered a chipmunk in our basement. We tried with no success to capture it ourselves. So my wife went on the web and found Brad. When he came in, he located the chipmunk. Brad set up the trap and before my wife could say anything, Mr. Chipmunk was in the trap. The most important thing is Brad found out where the chipmunk came into the house and fixed the problem for us. Brad does professional work and I would not hesitate to call him again. Thanks Brad.
Irma T. - West Dundee, Illinois
---
Thank you so much for your quick response with our neighborhood raccoon. My neighbor(s) and us really appreciate it. -Kathleen V. - Batavia, IL
---
Excellent service and very knowledgable, Brad knows his business. He set traps and explained what I need to do to prevent more unwanted "guests" in my attic in the future. -"J"
---