Illinois has one species of mole, the eastern mole. This secretive creature is found throughout the state, wherever there is soft, moist soil, such as lawns. When soil is in an especially good condition, as after a rain, moles can tunnel at a rate of 18 feet per hour. This benefits the mole as it searches for insect foods, but wreaks havoc on your lawn or turf in the process.
Moles create a series of raised tunnels and dirt mounds, that appear as a chaotic stream of ridges. Mole damage can be very extensive. In some cases moles can damage underground irrigation systems and above ground swimming pool liners.
We offer services to remove nuisance moles from your property. Please contact us if you believe you have a mole problem. Upon our thorough and expert inspection, we can tell you exactly what animal is causing the problem.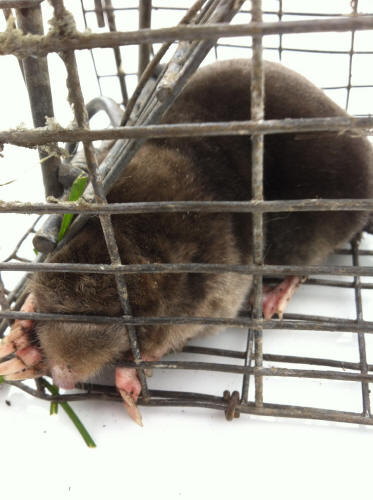 A very rare view of a live mole we trapped