Feral Cats and Feral Cat & Kitten Removal by Suburban Wildlife Control:
As much as we don't like to see domesticated animals without proper homes, it does happen.
Feral cats are one of the most common examples. A "feral" is considered a cat that is completely wild,
as opposed to a "stray" that may have just lost it's way.
Feral cats can be a big problem, as they have the tendency to reproduce quickly, which can easily get out of hand.
Stray cats can spread diseases and parasites to other animals, even your own domestic pets. They can damage
native bird populations, and leave unwanted carcasses of rodents and birds behind to decompose and smell.
They can also leave the strong scent of urination and defecatation, and create many other unsanitary messes.
If you have feral cats living on your property, we offer services to humanely live capture and remove them for you.
We take care afterwards to find homes for kittens, will take tamer animals to a help organization, and place adult
cats that are less tame with farms that need barn cats. This is a much more suitable life for a feral cat, where
they will have the warmth and food that they need.
Please contact us for a rate quote if you need help removing ferals.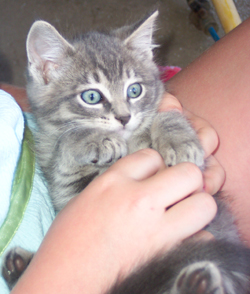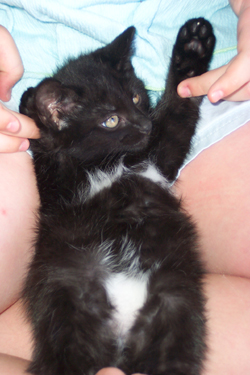 Feral kittens we "tamed" and found homes for
More pictures of Feral Cats and Kittens in our Photo Gallery>