Most of the animals that people believe to be "orphaned" are actually not, with the parent(s) being close by and out of sight, such as baby rabbits, birds, and deer.
Baby rabbits will stay in the nest alone during the day with the mother feeding and caring for them at night. Baby rabbits are weaned and surviving on their own when they are 4 -5 inches long, many people think that they are "orphaned" when in fact they are already independent. Because their nests are open and exposed, and often in the yard where pets may go, they can be injured or killed. If you know of nest of baby rabbits, try to keep your pets away and the nest undisturbed. If a baby rabbit has been injured, you should contact a wildlife rehabilitation center for instruction.
Baby birds fledge (leave the nest to begin flying) sometimes before their flight feathers are fully formed. This is completely natural, and the parent birds stick nearby and continue to feed and care for their young, unseen by most people. In yards, baby birds can become the victims of cats and dogs, but in most cases should not be handled. If you have found a baby bird that has been injured by a pet, or that has no or little feathers at all, then you will need to contact a licensed wildlife rehabilitation center to care for it.
Baby deer (fawns) when they are first born, are left in areas where the mother feels that they are safe. This is often times your yard, even sometimes very close to the house. The deer are born with very little scent so the mother keeps her distance for awhile to avoid attracting predators while the baby gains strength. Baby deer should not be picked up or handled, most of the time the mother is very close, just out of sight. If you know for a fact that the fawn has been orphaned (mother was hit by a car for example) you must contact a wildlife rehabilitation center that accepts fawns, as not all of them do. If you have a fawn that is in trouble (such as one we recently pulled from a window well after he had fallen in) we may offer services to help. Contact us to find out.
For the most part, all animal babies are left alone by their parents, at sometime. If you find, for example, baby raccoons, or opossums, huddled together alone for an extended length of time, they probably are orphaned. Most wildlife rehabilitation centers will take them for you, but if you do not feel comfortable handling the animals, we can pick them up for you for a service call fee.
The following rehabilitation centers service Kane and DuPage Counties, and can either help you, or refer you to someone who can:
Willowbrook Wildlife Center
525 S. Park Boulevard
Glen Ellyn, IL 60137-6932
phone: (630) 942-6200
website: http://www.willowbrookwildlife.org/
Fox Valley Wildlife Center
45W061 Hwy. 38
Elburn, IL 60119
phone: (630) 365-3800
website: http://www.foxvalleywildlife.org/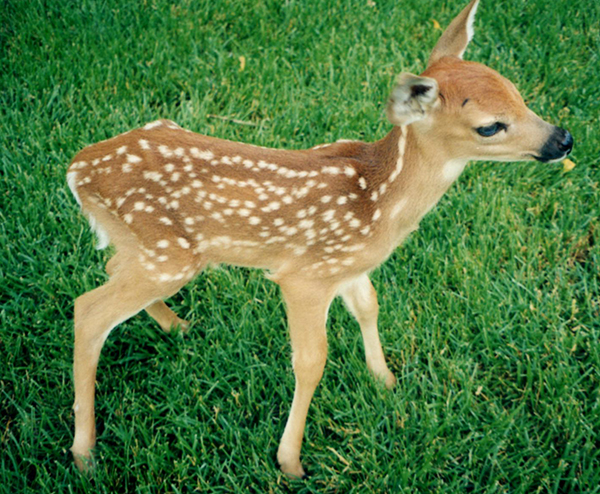 This fawn in a backyard may appear to be "orphaned" because its mother is not "in sight" but she is nearby, hiding, and will return to her baby at the right time. They should not be handled. If you know for sure that the baby has been completely without its mother for an extended period of time, you can then make a call for help.