Squirrels are native to all of Illinois, the most common being the fox squirrel and gray squirrel. Squirrels can be seen almost anywhere that there are trees, and they have easily adapted to living among humans in city and suburban locations.
Squirrels are active all day, and all year round. They typically prefer a den in a hollow tree but when the opportunity "opens up" (usually via their strong teeth and jaws) for them to move in to a warmer, safer, dryer "nest" (your house), they will. Squirrels are naturally attracted to our homes, climbing trees (and siding, and brick, and nearly anything) to easily access roof tops. They are especially attracted to wood (which is easy to chew) and once they've chewed their way through, they look at attics and exterior wall spaces as cozy open cavities in which to live.
Squirrels also often gain entry to and get in to the inside of houses, basements, chimneys, and buildings. In cases like this we may be able to capture the animal on the spot, or traps may have to be set. In any case, it is no fun having a squirrel running around your home or business, knocking things over, and causing all manner of messes. If they are not in the immediate living space and have gained access to the attic or other area, we offer our services to identify where they are coming in and out, and quickly and efficiently trap, remove, and relocate these nuisance squirrels.
Once inside, squirrels (which usually consist of families of 2 - 8 members) can completely destroy an attic (or other area of your home), not to mention the damage they do getting in. Squirrels have a very strong smelling urine that is can sometimes be detected from within the house. They tear through insulation, matting it down, and causing energy loss. They have the tendency to bring a lot of outside mess in to their "den", such as leaves, twigs, garbage, etc. causing an even larger disaster. They also continue to chew once within the space, damaging structural supports, and causing possible fire hazards by chewing wires. They cause biohazardous conditions with their urine, feces, and capabilities of carrying a host of parasites and diseases, including mites, lice, fleas, worms, viruses, and mange.
One common complaint of squirrels inside attics and walls is the constant scritching, scratching, and scurrying that they do.
Please contact us if you suspect you have a squirrel problem. If you are unsure what type of animal is causing your wildlife problem, we will be able to tell you upon our thorough and expert inspection.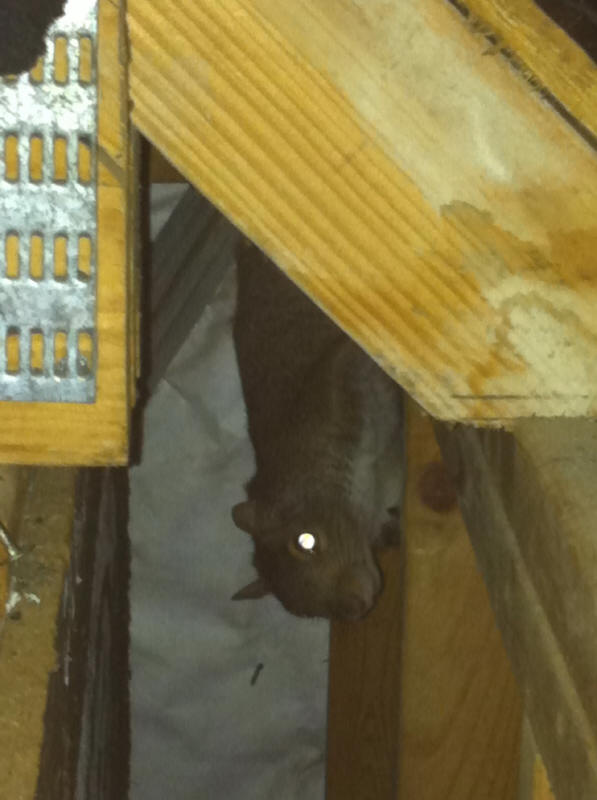 A squirrel that has chewed its way into and is living in a customer's attic watches Brad as he prepares to capture it.