Bats and Bat Capture and Removal by Suburban Wildlife Control:
If there is one animal most people do not want in their homes, it's bats. There are 12 species of bats in Illinois, but the most common, and the one found most often in human structures and dwellings is the little brown bat.
Considered beneficial animals most of the time because of their appetite for insects, in certain situations (such as when they have taken up residence in our home or business) bats, however, pose a threat to human health. Histoplasmosis is a disease associated with bat guano and bird droppings. When droppings accumulate for years, a fungus (Histoplasma capsulatum) can grow and produce spores that may cause histoplasmosis when inhaled. Where bat or bird droppings accumulate, in an attic for example, care should be taken to avoid contracting this disease.
Perhaps the greatest health risk from bats is rabies. In Illinois, rabies is found in bats more than any other wildlife species. Rabies is a viral disease causing encephalitis (brain inflammation) in humans and animals. Humans can become infected when bitten by a rabid bat. Transmission also can occur when an infected bat's saliva (but not blood, urine, or feces - unless these are mixed with spinal fluid – as can happen when a bat is beaten or crushed) comes in contact with a person's eye, nose, mouth, a scratch or wound. Contact with aerosolized bat saliva, especially where large numbers of bats are roosting, also can transmit rabies to humans, although this type of transmission is quite rare. Rabid bats may exhibit no obvious abnormalities, so all contact with bats should be avoided.
There are other diseases and parasites associated with bats. Fleas, lice, mites, and bat bugs are among them. Some may transmit diseases to humans. If bats have taken up residence in an attic or building, the parasites may look for alternate hosts and may wander into the living spaces of structures.
Bats flying outside at night pose little risk. However, bats flying outside in daytime, flopping around on the ground, landing on or near someone, or roosting in accessible locations should be avoided, as should any bat found indoors.
We offer services to remove nuisance bats, and also for bat-proofing and exclusion. We also offer emergency services if you have a bat that has gotten in to your home or business. We also offer complete attic insulation services to thoroughly remove all of the insulation, disinfect and deodorize the area, and install new insulation, which often is covered by homeowner's insurance.
If you suspect you have bats (or any other animal) living in your attic, home, or building, please contact us for a rate quote. If you are unsure what type of animal is causing your wildlife problem, we will be able to tell you upon our thorough and expert inspection.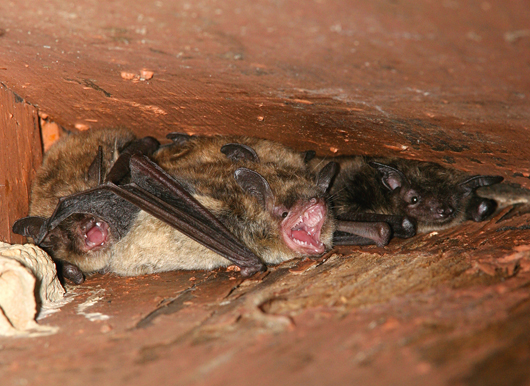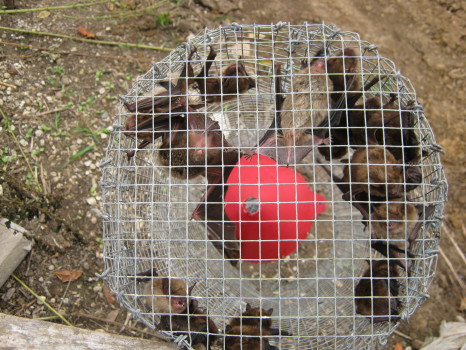 Bats living in the rafters and a whole cage full of bats Brad trapped out of someone's attic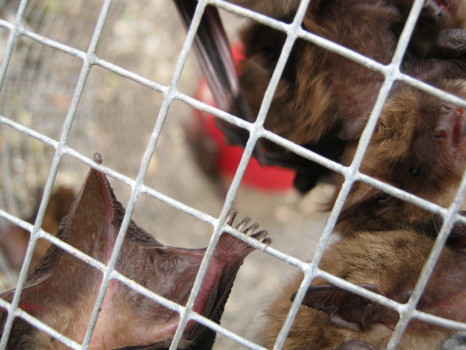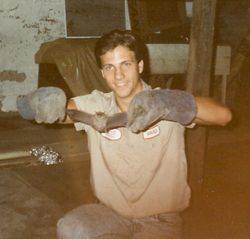 Up-close and personal with some bats Brad caught, and a photo of Brad with a bat that he caught in someone's basement, many years ago!
Click here for more photos of bats from Suburban Wildlife Control >