Chipmunks by Suburban Wildlife Control:
The Eastern Chipmunk is common throughout the state of Illinois. It prefers cool and shady areas, and loves to live along the edge of concrete.
It digs tunnels and burrows underground in which it hides it's storehouse of food that it is constantly collecting. The chipmunk continues digging its nest burrow all its life. As a result, burrow tunnels can extend for 30 feet or more and may contain several chambers and exits. The chipmunk also digs shorter, simpler burrows for emergency exits and food storage.
Chipmunk tunnels that go underneath driveways and sidewalks can cave-in little pockets of concrete or pavement.
Chipmunks eat nuts, berries, and seeds, but also love flowers and flower buds. With their appetite for gardening and landscaping, and their habits of digging, they can become a nuisance to the home or business owner.
We offer services to humanely live trap and relocate nuisance chipmunks. Please contact us if you would like a quote. If you are unsure what type of animal is causing your wildlife problem, we will be able to tell you upon our thorough and expert inspection.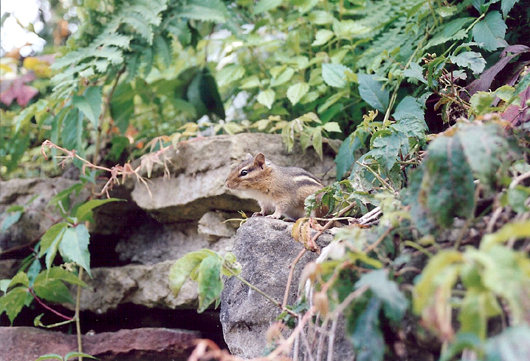 A photo of a chipmunk I took amongst landscaping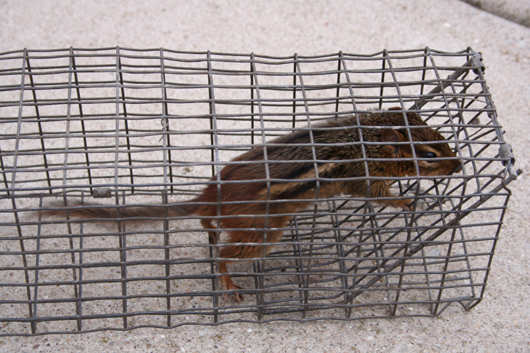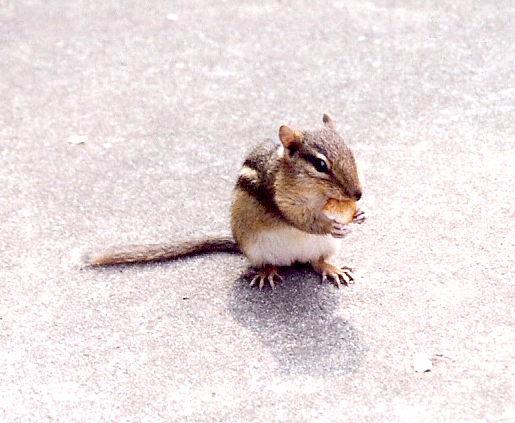 a chipmunk that we caught (left) and a chipmunk eating (right).