---

Tracking Coyotes in Deerfield
February 13, 2013 | By Susan Berger, Special to the Tribune

DEERFIELD —
It's not unusual for Deerfield resident Adam Rich and his wife to be awakened around 3 a.m. by squeals from their backyard. The morning often reveals dead rabbits, feathers and blood streaked snow.
Rich said coyotes have frequented his neighborhood in the 900 block of Bristol Drive for years. A coyote attacked one of his cocker spaniels a year ago, just three feet from where his wife Gwen was standing. And although the dog came away with only minor scrapes, the incident motivated him to hire Brad Lundsteen of Suburban Wildlife Control, who specializes in humanely capturing and removing nuisance animals.
Lundsteen set traps last year but caught no coyotes. Lundsteen was surprised because he said coyote tracks were all over Rich's property.
On Feb. 8, following a significant snowfall, Lundsteen returned to the Rich home. The end of January through February is mating season for coyotes, and there have been many sightings in the area.
Lundsteen found the tracks of what he described as "a huge coyote." And five houses from Rich's he found a deer leg. Lundsteen is sure it was the remnants of a coyote kill.
"We'll have him in a couple of days," Lundsteen said after setting up a trap in Rich's yard. The coyote, Lundsteen said will be lured by chicken liver and fox urine.
By Tuesday morning, though, the coyote was still at large.
"Sometimes they travel for miles and miles looking for a mate before they come back again," said Lundsteen.
Coyotes have been an ongoing problem in many areas where they were not seen for years. Lundsteen said coyotes have adapted to a more urban life filled with noise from cars, lights and people and have become bolder.
Last April, two coyotes killed a 10-pound Brussels-griffons dog that escaped under a fence in the 2100 block of Magnolia Lane in Highland Park.
In December, another Highland Park dog received a one-inch gash on its head after tangling with coyotes. The dog was off-leash on the beach and was chased by coyotes.
Louise Sacks, a resident of the 500 block of Brierhill Road in Deerfield, said coyotes are a constant problem.
"There are a whole bunch here," Sacks said. "It's all wooded and they go back and forth in the backyard all the time."
Sacks, who has a 50-pound Golden doodle, always accompanies her dog and always carries a broomstick for protection. She said a coyote once got as close as 10 feet from her while she was gardening.
The Sacks spoke to the Deerfield Village Board last July and told them how they, too, could hear the coyotes making their kills at night and how they feared for their dog.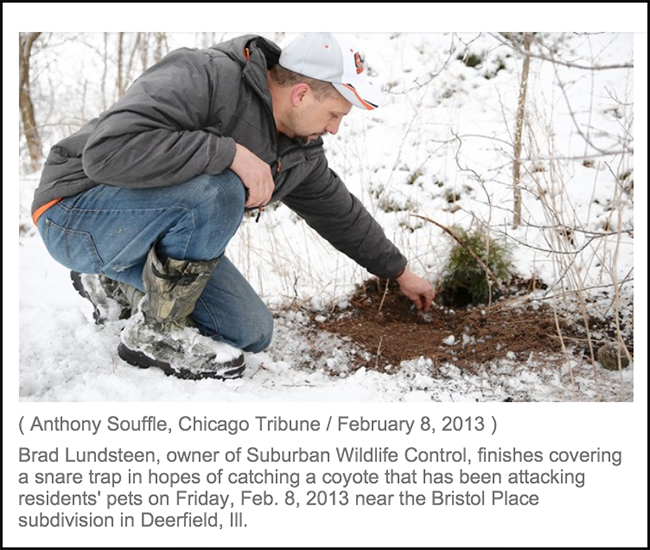 The police said there was nothing they could do and came away frustrated by the inaction of the board, Sacks said.
Deerfield Assistant Village Manager Andrew Lichterman said the police looked into the incidents and that they directed residents to get information from the Illinois Department of Natural Resources.
Coyotes "are protected and there are limitations," Lichterman said. "Don't expect them to go away. They do have a habitat around here."
"It would be nice if the village would take an active role," Rich said. "The village will get involved when there is a tragedy, and that is inevitable."
The Illinois Department of Natural Resources website encourages residents who have problems with nuisance wildlife to hire a professional in order to avoid injury and transmittable disease.
Bonnie Draughan, a specialist with the Division of Wildlife Resources, said it is legal to trap coyotes during trapping season, from Nov.5- Jan. 20. Outside of that time, a homeowner can get a permit to trap a nuisance animal by contacting a biologist at the DNR. The website also provides a list of those licensed to trap.
"Most of the villages do not hire trappers," Draughan said.
Both Rich and Sacks use an invisible fence for their dogs on their property. Glencoe Animal Control officer Katie Sweeney said invisible fences are causes for concern.
"It traps your family pet," Sweeney said. "They can't get out but the coyotes can get in. We need to protect our pets — they can't protect themselves."
Sweeney encourages people to keep their dogs on leashes and their cats inside. She suggests that dog walkers protect themselves by carrying air horns, available at boating stores, to scare off coyotes.
She advises that if you see a coyote approaching to not turn and run and do not stare at them. She suggests waving your arms and to "hoot and holler," and even throw a stick at them.
"Your dog will tell you before you see a coyote that there is one in the area," Sweeney said. "They tend to get agitated, and nervous. Take your cues from them."
---
Copyright © 2013 — Chicago Tribune | Original Online Article: http://articles.chicagotribune.com/2013-02-13/news/ct-tl-lk-0214-deerfield-coyotes-20130212_1_trap-coyotes-traps-last-year-dog
---